Message from the Representative Researcher (Research Group B02)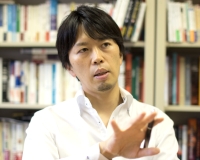 Conflicts and national failure, which are the focus of this research project, are a big problem not only to the countries directly facing those or other crises, but also to the world overall. For example, the Iraq War from 2003 and the conflict in Syria that started in 2011 pushed both countries toward the chasm of "failed states," but the terrorists and refugees that arose as a result of that have created problems for countries worldwide in terms of aspects such as national security, finance, and citizens' unity. This research project aims to elucidate the actual conditions of national failure that have occurred as due to conflicts or civil wars, and the actual state of cross-border activities and networks of non-state actors that result from those.
The problems from states that have failed due to conflicts or civil war that affect the surrounding countries and international society are not something that sprang up just recently. On the other hand, though, efforts to resolve the issues created by national failure emphasize recovery of the "nationhood" that was lost in those countries. In other words, the basic way of thinking with regard to failed states is that the problem is simply one of the failed states themselves, and that by recovering the authority, systems and symbols needed for governance, those countries can be restored to the desired "prototype" of how they once were.
The failures of nations occurring around the world these days, though, indicate such severe conditions that the "prototype" itself of the nation as it originally existed has collapsed. The non-state actors that arise there do not necessarily have any concern about the "prototype" in their internal power struggles. They may have a completely different "prototype" in mind, or be creating a network of sympathizers active in neighboring or distant countries. Meanwhile, they may not only be tearing down that nation but also defying the regional status quo or international political power structure.
This research project will focus on and attempt to illuminate the actual conditions in Iraq, Syria, Lebanon, Yemen, Somalia, the former Yugoslavian countries, and other countries that are either considered "newly failed states" or represent states facing that danger. We will use area research methods to pick up what is occurring in each country at the micro level, while at the same time aiming to create a comprehensive methodology for identifying and analyzing the actual conditions of "newly failed states" the world is directly faced with in the 21st century using uniformly designed surveys based on social sciences, comparisons among nations, and a cross-regional perspective.
Koeta Suechika, Representative, Research Group B02